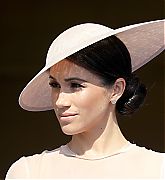 On Tuesday, only three days after her wedding to Prince Harry, Meghan Markle made her first public appearance as the Duchess of Sussex. And it was no minor event, either, as Meghan appeared with Harry, Charles, and Camilla at a 70th birthday event in honor of Prince Charles, which was attended by some 6,000 people.
Notably, gone was the messy bun and bare legs that characterized most of Meghan's previous appearances; instead, she sported a sleek hairstyle (no tendrils in sight!) and the nude panty hose rumored to be required by the Queen for all royals. And her dress, made by Goat (one of Kate's favorite brands), was extremely Middleton-esque, too. According to a royal source, the similarities to Kate's sartorial flair are no coincidence.
"Kate has been on hand to help Meghan get that polished royal look as has her stylist, Natasha Archer, who is Kate's secret weapon in the style department," the source said to Vanity Fair. "Meghan now needs to find her own stylist so that she can curate her own look, but both Kate and Natasha have been very kind in helping her out in recent months."
Vanity Fair has previously revealed how Kate had introduced Meghan to Emilia Wickstead, one of her other favorite designers, who helped ensure Meghan was dressed appropriately for the recent Anzac Day service she attended with Prince Harry.

And Meghan will be receiving even more royal help from an insider who knows their way around the palace. Samantha Cohen, who serves as the assistant private secretary to the Queen, "will be joining the household later this summer as acting private secretary to both the Duke and Duchess of Sussex," according to one Palace aide. A Daily Mail report suggested that Cohen, nicknamed "Samantha the Panther" for her no-nonsense style, will help Meghan and Harry through their first year of marriage, and that Meghan is preparing for "six months of listening" to the experienced aide.
Cohen, who will shortly complete her tenure working for the Queen, is one of Her Majesty's most long-serving and trusted aides and has a wealth of experience. At the Palace, she is seen as a "safe pair of hands" and is well liked. She was personally selected by Harry to help his new bride navigate the early months of her new life as a royal.
Meghan is also already being assisted by several members of Prince Harry's staff, among them Amy Pickerill who has been stepping in as an assistant private secretary to assist the outgoing Ed Lane Fox who worked as Harry's private secretary for five years. The Palace announced Lane Fox was leaving this summer earlier this year. Pickerill, who is part of the press team where she works for head of communications, Jason Knauf, has been helping the couple out while they look for a new full-time member of staff. As well as overseeing their diaries and official engagements, Pickerill was assigned to help in the run-up to the couple's wedding overseeing meetings, logistics, and collecting Doria Ragland when she arrived in the U.K. last week.
One of Cohen's briefs is to assist Meghan with royal protocol and etiquette. Now that she is married to Harry, she will be expected to join him on state visits, to state dinners, and on official engagements which will often require a knowledge of royal protocol.
"There's very little Samantha doesn't know, and she's very well liked and respected at the Palace. She's the perfect aide to help guide Meghan in some of the complexities of protocol," a royal source told Vanity Fair.
Source: https://www.vanityfair.com/