FROM THE WEBSITE: Smart Works is a UK charity that provides high quality interview clothes and interview training to unemployed women in need. They harness the power of clothes and confidence to allow a woman to be her best at a crucial moment in her life, giving her the confidence, the self-belief and the practical tools required to succeed at interview and transform her life.
Women are referred to them from organisations such as job centres, work programmes, prisons, care homes, homeless shelters and mental health charities. Half have been unsuccessful in over 20 applications. A third have been turned down from over 50 jobs. All are suffering from a lack of confidence in their own abilities.
The tangible impact that their service has on a woman's confidence is something they have the privilege to witness every day. The magic begins when she enters the dressing room and is styled into her interview outfit, hers to keep, by trained volunteers. She looks in the mirror and sees a new and impressive version of herself. This is followed by one-to-one interview coaching, after which 60% of our clients go on to get the job.
Named Social Action Charity of the Year 2017 at the National Charity Awards, it is Smart Work's mission to ensure any woman who needs our help should be able to come to a Smart Works centre.
To learn more about this organization, visit their official site.
INFORMATION:
— Meghan, The Duchess of Sussex became Patron in January 2019.
— The Duchess made several private visits to Smart Works starting in March of 2018.
EFFORTS:
January 10, 2019 – The Duchess of Sussex Visits Smart Works – On the day Smart Works was announced as one of Meghan's first patronages The Duchess of Sussex paid a visit to the charity. Upon her arrival The Duchess joined a discussion with volunteers and women the charity has helped succeed in job interviews. Afterwards, she helped one of the women style an outfit for her new job.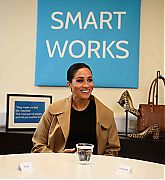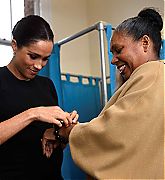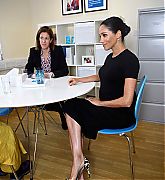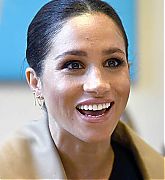 September 12, 2019 – Smart Works Capsule Collection Launch – The Duchess of Sussex, alongside Smart Works Charity – in partnership with Jigsaw, John Lewis and Partners, Marks and Spencer and Misha Nonoo revealed 'The Smart Set' – a five piece capsule collection that will equip Smart Works clients with classic wardrobe pieces to help them feel confident as they head back into the work space. The collection – which features a shirt, trousers, blazer, dress and tote bag was on sale for two weeks with the objective of selling enough units to give Smart Works the essentials they need to help dress clients for the coming year. For every item bought during the sale of the collection, one will be donated to Smart Works.