FROM THE WEBSITE: Established in 1913, the Association of Commonwealth Universities is the world's first international university network, and remains the only accredited organisation representing higher education across the Commonwealth.
Founded to lead 'common action in matters of common interest', the ACU is governed by its member institutions through an elected Council. A UK-registered charity, it received a royal charter in 1963 and, in 1986, Her Majesty The Queen, Head of the Commonwealth, became its Patron. In 2019, Her Majesty passed on the patronage to HRH The Duchess of Sussex.
Today, the ACU champions higher education as a force for good in the Commonwealth. Among its key principles is the value of higher education to society – or its role 'as a common good' – and the conviction that this value is enhanced by international collaboration.
The Commonwealth – with its shared language, structures, and academic traditions – offers a powerful advantage, paving the way to an ease of working together and creating valuable opportunities for collaborative research and student/staff mobility.
The ACU's role is to champion the work of Commonwealth universities, particularly the central role they play in achieving all 17 Sustainable Development Goals; connect and convene our member institutions to share best practice, pool resources, and develop long-term partnerships; bridge the gap between the higher education sector and Commonwealth governments; seed change, building the capacity of universities to serve current and future generations.
To learn more about this organization, visit their official site.
INFORMATION:
— Meghan, The Duchess of Sussex took over as Patron from The Queen in January 2019.
EFFORTS:
October 24, 2018 – Royal Visit Fiji – Day 9 – Their Royal Highnesses visited the University of the South Pacific campus in Suva, where they observed a cultural performance on the effects of climate change, before meeting students studying subjects from agriculture to women's development. The event was streamed to a number of the university's campuses throughout the Pacific region. The Duke made short speech in his capacity as Commonwealth Youth Ambassador, unveiling four new Queen Elizabeth Commonwealth Scholarships – with a specific focus on climate resilience and The Duchess announced two new grants awarded to the University, which will allow them to run workshops to empower female staff and to support students during their education. Meghan gave a powerful speech about her own college experiences, and the right for young girls and women all over to further their education. You can watch Meghan's full speech here.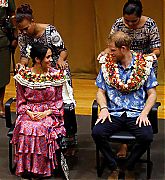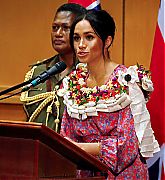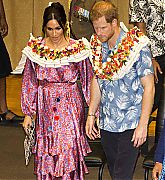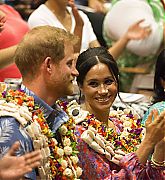 ---
December 05, 2018 – Visiting The Association of Commonwealth Universities – The Duchess of Sussex had an unannounced engagement where she visited The Association of Commonwealth Universities. The ACU posted: "University leaders, academics, and international scholarship students came together at an ACU event to explore how higher education can help build a better world. Hosted by King's College London, the event was an opportunity to discuss the role of universities in addressing human trafficking and modern slavery, gender equality and inclusion, peace and reconciliation, and climate change and resilience."