FROM THE WEBSITE: At the National, we make world-class theatre that is entertaining, challenging and inspiring. And we make it for everyone.
We aim to reach the widest possible audience, to be open, inclusive and diverse, and as national as possible. We stage a broad range of productions in London and tour extensively across the UK. Our international activity puts some of the nation's leading artists on the world stage, with productions playing on Broadway and touring across the globe.
We invest in the future of theatre by developing talent, creating bold new work and building audiences, partnering with a range of theatres and theatre companies.
Our extensive nationwide learning and participation programme supports creative education for young people through performance and writing programmes like Connections, New Views and Let's Play. In London, our programme of talks, events and workshops opens up theatre to people of all ages.
Our major new initiative, Public Acts, creates extraordinary acts of theatre and community; the first Public Acts production was 2018's Pericles.
We extend our reach through digital programmes including National Theatre Live, which broadcasts some of the best of British theatre to over 2,500 venues in 65 countries. Our free streaming service, On Demand In Schools, is used by nearly 60% of UK state secondary schools.
Whether you've been to the National many times or are making your first visit, we hope you will be entertained, challenged and inspired.
It's your National Theatre. Welcome.
INFORMATION:
— Meghan, Duchess of Sussex took over as Patron from The Queen in January 2019.
EFFORTS:
January 30, 2019 – Visiting The National Theatre – The Duchess of Sussex made her first visit to the National Theatre as Patron. Her Majesty The Queen passed on the Patronage to Meghan having held the role for the past 45 years, earlier this year. During this visit Meghan took the opportunity to learn about the National Theatre's work with arts and community organisations across the UK. As well as meet with current and former Nation Theatre apprentices. She also enjoyed a performance inspired by War Horse by schoolchildren from Edith Neville Primary School in Camden, which was created to mark the centenary of Armistice Day and watched a line run from Shakespeare's Pericles — the NT's first Public Arts production of Pericles was performed by a company of over 200 people of all ages recruited through the National Theatre's partners.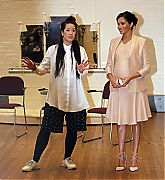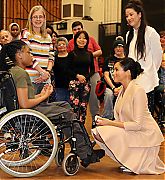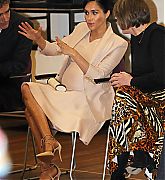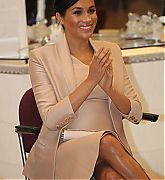 January 08, 2020 – Private Visit To The National Theatre – Meghan, Duchess of Sussex attended a private meeting at the National Theatre in London where she met with artistic director Rufus Norris and executive director Lisa Burger for updates and to talk about the year ahead.