Hello everyone! Welcome to Royal Visit Dublin – Day Two! Today (July 11, 2018) The Duke and Duchess of Sussex spent a busy day learning about Ireland's culture and heritage. kicked off their day meeting with President Michael D Higgins and his wife Sabina Coyne at his residence Aras an Uachtarain. While there the couple signed the guest book, and rang the Peace Bell, which was designed to mark the 10th anniversary of the Belfest Agreement. The real stars of the show turned out to be President Higgin's two Bernese Mountain dogs, who crashed the official photos.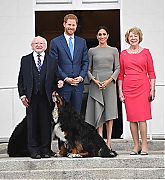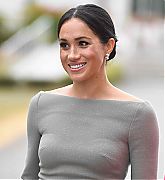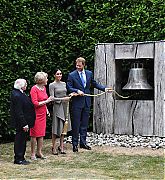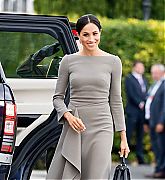 Next, The Duke and Duchess visited a Gaelic sports festival in Croke Park, the home of the Gaelic Athletic Association, where they met with young players and officials. Next up, the pair visited Trinity College where they saw the Book of Kells, and enjoyed a small tour of the Long Room of the Old Library and other treasures. Afterwards the duo greeted the excited crowds waiting for them.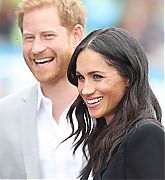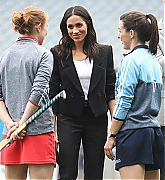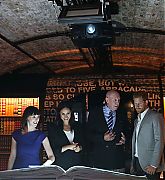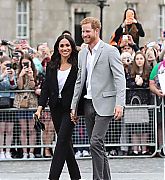 After lunch the Duke and Duchess resumed their engagements for the day at the Famine Memorial, which commemorates the Great Famine of the 19th Century. Harry and Meghan met it's sculptor Rowan Gillespie. Meghan seemed especially moved. On their next stop they visited the interactive EPIC, the Irish Emigration Museum where they explored a tribute to Irish innovators. The final stop of the day was at DogPatch Labs, which is a co-working space for technology start-ups. Harry and Meghan met with young people who were taking part in the free workshops.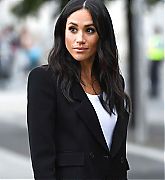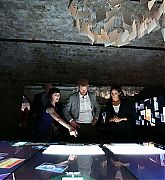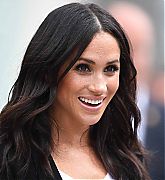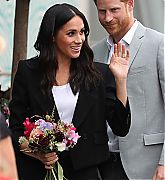 And that concludes The Duke and Duchess's first official Royal Tour! I think they did really well! Please make sure to check out over 1,000+ high quality photos that have been added to the gallery. More will be added as the day and week goes on! I hope you all enjoyed the tour and the photos as much as we have!
GALLERY LINK
Engagements & Tour Photos > 2018 > Ireland Tour