HORSING AROUND: Today is the final day of The Duke and Duchess's three-day visit to Morocco. Their first stop of the day was to the Royal Equestrian Club in Rabat. Their Royal Highnesses saw first hand how equine therapy helps disabled children and young people with mental health challenges. The Duke and Duchess of Sussex met with disabled young people grooming horses at the Royal Equestrian Club and heard how spending time with horses is a source of therapy for them. They also met with staff who work at the Royal Equestrian Club, and mental health representatives involved in the program. Harry and Meghan also viewed a riding demonstration.
VIDEOS: The Duke and Duchess of Sussex Visit Moroccan Equestrian Club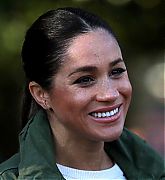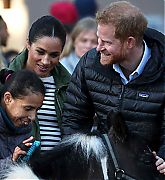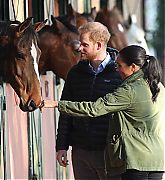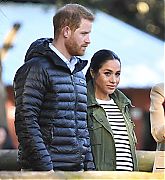 BIG BITE: From there The Duke and Duchess of Sussex took part in a cooking demonstration with children from disadvantaged backgrounds, with Chef Moha, an awarding-winning chef, known for reinventing Moroccan cuisine. Children made Cherine Mallah's Moroccan Pancakes from 'Together: Our Community Cookbook' – the charity cookbook, supported by The Duchess, which celebrates the power of cooking to bring communities together. The Duchess later went on to swap cookbooks with Chef Moha, leaving a personal message to him saying: "Chef Moha. Wishing you continued success and congratulating you on your incredible work in engaging the community in cooking. All the best. Meghan".
VIDEOS: The Duke and Duchess of Sussex Taste Traditional Moroccan Food | 'That's a Big Bite!'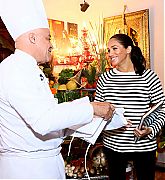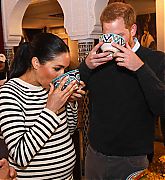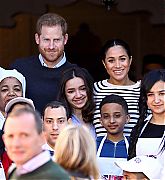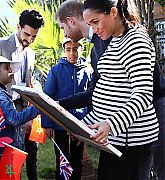 MOROCCAN CULTURE: In the last public engagement of the day Harry and Meghan visited Rabat's Andalusian Gardens to meet some of Morocco's young social entrepreneurs. Many of these young people here are working to address youth unemployment and supporting vulnerable communities. Their Royal Highnesses got the chance to see more of Moroccan's vibrant culture, meeting local artisans in the Andalusian Gardens who showed and gifted The Duke and Duchess some of their creations.
VIDEOS: The Duke and Duchess of Sussex Visit Andalusian Gardens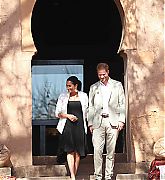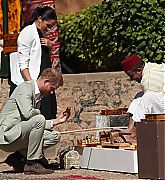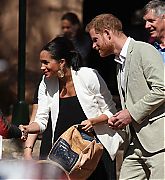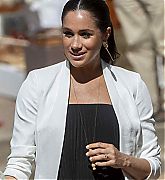 FAREWELL: To conclude the tour The Duke and Duchess of Sussex attended an audience with Mohammed VI of Morocco, The King of Morocco at a Royal Residence. While there Their Royal Highnesses presented letters from Her Majesty The Queen to The King and bid farewell to Mohammed VI of Morocco, his son The Crown Prince of Morocco, Prince Moulay Hassan, and The King of Morocco's sisters, Princess Lalla Hasna and Princess Lalla Meryem.
VIDEOS: The Duke and Duchess of Sussex Meet King Mohammed VI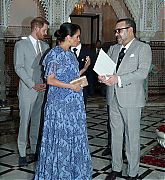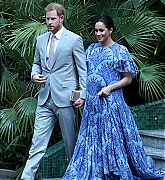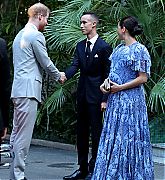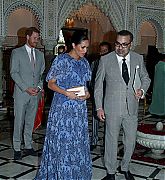 GALLERY LINK
Appearances & Engagements Photos > Engagements in 2019 > Morocco Tour > February 25 | Morocco Tour – Day 3 – Set 1
Appearances & Engagements Photos > Engagements in 2019 > Morocco Tour > February 25 | Morocco Tour – Day 3 – Set 2
Appearances & Engagements Photos > Engagements in 2019 > Morocco Tour > February 25 | Morocco Tour – Day 3 – Set 3