Meghan Markle joined Prince Harry at a special New York City event to honor veterans ahead of Veterans Day in the U.S. and Remembrance Day in the U.K.
The Duke and Duchess of Sussex arrived at the Intrepid Museum on Wednesday night for the 2021 Salute to Freedom gala in regal red carpet style: Harry sported a classic black suit and bow tie pinned with four medals and the cross for Knight Commander of Royal Victorian Order around his neck. Meghan wore a show-stopping red gown by Carolina Herrera with coordinating heels by Giuseppe Zanotti. Both adorned their outfits with a red poppy, the symbol used since 1921 to commemorate military members who have died in war. The Intrepid Museum's Salute to Freedom gala recognizes extraordinary leadership and honors the men and women who serve.
When a reporter on the red carpet asked Meghan if she was proud of Prince Harry, she turned and said, "I'm always proud of him."
The couple have been busy this week with their own separate endeavors leading up to Wednesday's Gala. Duchess Meghan appeared on the New York Times' Dealbook Online Summit to discuss the importance of paid parental leave for all and economic equity for women, while Harry was a guest speaker at a recent WIRED magazine conference, speaking out against misinformation online.
"Look, there's certainly a precedent amongst my husband's family and the royal family of not having any involvement in politics, but paid leave, from my standpoint, is a humanitarian issue," said Meghan during her conversation. "My husband has always said, 'With great privilege comes great responsibility,' but even before I had any sort of privilege in my life, when my life and my lifestyle were very different, I always just stood up for what's right."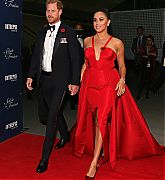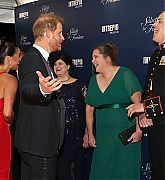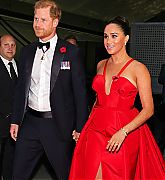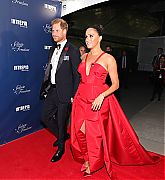 GALLERY LINK
Post royal life engagements (2021) 2021 Salute To Freedom Gala