The Commonwealth is a global family of fifty-three countries. That's one-third of the world's population, 60 percent of whom are under the age of 30. This potential in the most connected generation of all time is compelling. Their collective strength, passion and perspective present a unique opportunity to bring about positive change for now and for the generations that follow.
The Queen's Commonwealth Trust will use its network, platform and experience, together with the collaborative input of like-minded foundations and supporters, to enable young leaders to realise their dreams and hopes for the future.
We find and fund young people whose bright ideas solve local problems in education, health, the environment and sport. We support those who have set up their own not-for-profit organisations, as well as those who are leading projects that help others.
INFORMATION
— Prince Harry was appointed President of The Queen's Commonwealth Trust in October 2017 and then Ambassador in April 2018 and Meghan has joined him in support of his role. The engagements listed below are events Meghan has taken part in starting in April 2018 before she was married to Prince Harry and became a full time Royal.
— Meghan, Duchess of Sussex was appointed to Vice-President of The Queen's Commonwealth Trust in March 2019.
EFFORTS:
April 18, 2018 – Commonwealth Heads Of Government Meeting – Day 3 – Prince Harry and Meghan Markle attend a reception with delegates from the Commonwealth Youth Forum at Queen Elizabeth II Conference Centre. During their visit they met with delegates involved in the Youth Forum sessions throughout the week and past winners of the Queen's Leaders Award.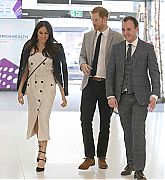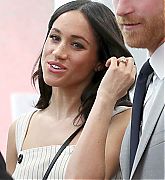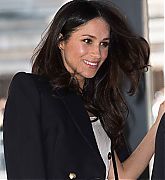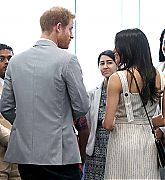 ---
April 19, 2018 – Commonwealth Heads Of Government Meeting – Day 4 – Prince Harry and Meghan Markle attend a CHOGM Women's Empowerment reception at the Royal Aeronautical Society. The pair joined host Foreign Secretary Boris JohnsonBoris Johnson as he launched his Platform for Girls Education and will use the CHOGM to push for all countries to ensure that girls received at least 12 years of good quality education.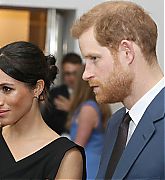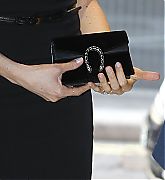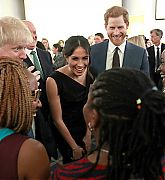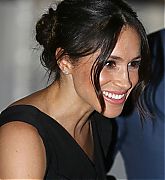 ---
June 26, 2018 – Young Leaders Awards Ceremony At Buckingham Palace – The Duke and Duchess of Sussex joined The Queen for a reception at Buckingham Palace to present awards to the Queen's Young Leaders for 2018 before taking part in a reception. The awards celebrates the achievements of exciting young change-makers from across the Commonwealth who are working to improve the lives of people across a diverse range of issues including supporting people living with mental health problems, access to education, promoting gender equality, food scarcity and climate change.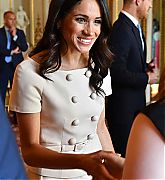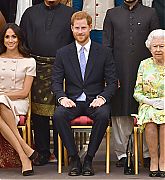 ---
July 05, 2018 – 'Your Commonwealth' Youth Challenge Reception – The Duke and Duchess of Sussex attend the 'Your Commonwealth' Youth Challenge Reception after a series of workshops at Marlborough House in London, England. During the event the pair met with youth representatives from Australia, New Zealand, Fiji and Tonga which they will visit in the fall of 2018. The reception gave Harry and Meghan the chance to meet with young people and hear about how they have been working together to shape the future of the Commonwealth.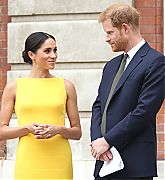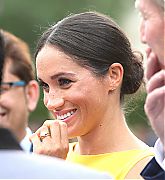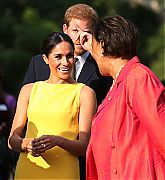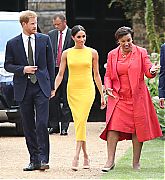 ---
October 24, 2018 – Royal Visit Fiji – Day 9 – Their Royal Highnesses visited the University of the South Pacific campus in Suva, where they observed a cultural performance on the effects of climate change, before meeting students studying subjects from agriculture to women's development. The event was streamed to a number of the university's campuses throughout the Pacific region. The Duke made short speech in his capacity as Commonwealth Youth Ambassador, unveiling four new Queen Elizabeth Commonwealth Scholarships – with a specific focus on climate resilience and The Duchess announced two new grants awarded to the University, which will allow them to run workshops to empower female staff and to support students during their education. Meghan gave a powerful speech about her own college experiences, and the right for young girls and women all over to further their education. You can watch Meghan's full speech here.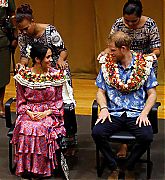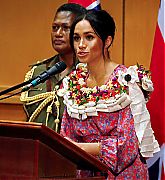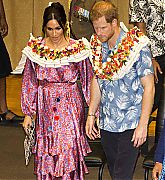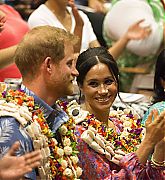 ---
December 05, 2018 – Visiting The Association of Commonwealth Universities – The Duchess of Sussex had an unannounced engagement where she visited The Association of Commonwealth Universities. The ACU posted: University leaders, academics, and international scholarship students came together at an ACU event to explore how higher education can help build a better world. Hosted by King's College London, the event was an opportunity to discuss the role of universities in addressing human trafficking and modern slavery, gender equality and inclusion, peace and reconciliation, and climate change and resilience.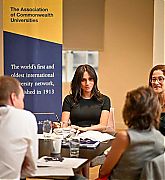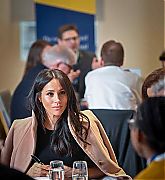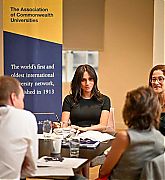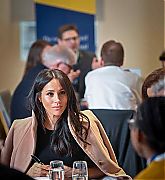 ---
February 12, 2019 – Attending 'The Wider Earth' Gala Performance – The Duke and Duchess of Sussex attended the gala performance of 'The Wider Earth' in support of the Queen's Commonwealth Trust and The Queen's Commonwealth Canopy at the Natural History Museum in London. Before the performance the couple met with students from the charity Urbanwise London which offers opportunities for hands-on outdoor learning to schools, families and adult groups. They also met with museum representatives, viewed Darwin treasures on display, and recieved a closer look at 'The Wider Earth' puppets with creators Nicholas Pain and David Morton.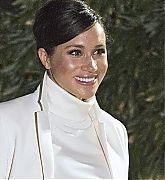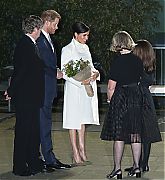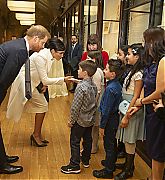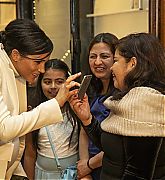 ---
March 08, 2019 – International Women's Day Panel Discussion – Soon after being anounced as the new Vice-President of The Queen's Commonwealth Trust, The Duchess of Sussex joined a special panel of female thought-leaders and activists to discuss a range of issues affecting women today. Hosted by Kings College London, the event brought together Annie Lennox OBE, founder of The Circle, an organisation supporting and empowering women's lives around the world; Adwoa Aboah, founder of Gurls Talk, an open community where young girls can talk about the issues that matter to them; Julia Gillard, Former Prime Minister of Australia and Chair of the Global Institute for Women's Leadership at King's College London. Also on the panel was Chrisann Jarrett, Founder of Let us Learn; and Angeline Murimirwa, Executive Director of the Campaign for Female Education (CAMFED) in Africa and co-founder of CAMA, a pan-African network of young female leaders and Anne McElvoy, Senior Editor of The Economist was chair. In front of an audience of students, opinion formers and young leaders The Duchess spoke at length about the obstacles that women face and the global opportunities that could be unlocked if girls and women are treated fairly and equally alongside men.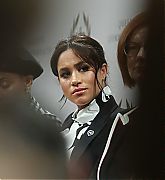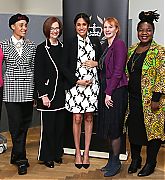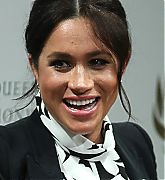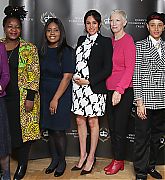 September 23, 2019 – South Africa Tour – Day 1 – Set 1 – On the first day of Their Royal Hignesses tour of South Africa the couple visited the Justice Desk in Nyanga, an initiative which teaches children about their rights, self-awareness and safety, and provides self-defense classes and female empowerment training to young girls in the community. The Justice Desk is supported by The Queen's Commonwealth Trust, of which Harry serves as President and Meghan as Vice-President. Harry and Meghan observed the Mbokodo project whose powerful motto is "wathint' abafazi wathint' imbokodo" which means "you strike a woman; you strike a rock" before getting the chance to talk with the girls. Following the tour of the center, Harry and Meghan both made fantastic speeches. Meghan said in part: "While I am here with my husband as a member of the Royal Family, I am here with you as a mother, as a wife, as a woman, as a woman of color and as your sister. I am here with you and I am here for you." The couple were then presented with a South African Xhosa name for their son Archie, "Ntsika" which means pillar of strength which was given to him by the township's godmothers, referred to as Gogo's. In a fun spontaneous moment at the end of the engagement Meghan joined in with the women who were dancing upon their departure.