Hello Everyone! Today was the big day! Prince Harry and Meghan Markle are officially husband and wife! The wedding was absolutely wonderful and so emotional. Meghan looked stunning as we all knew she would. At the time of writing this, post wedding festivities are under way! Of course Mary and I are busy adding tons of photos and will continue to add photos over the next couple of days, but before we get to those, here are some highlights from the day!
Prince Harry and Meghan Markle are now to be referred to as The Duke and The Duchess of Sussex.
Prince Harry and Meghan Markle chose Cleave and Company to make their Wedding rings. Meghan's ring has been fashioned from a piece of Welsh Gold, gifted by Her Majesty The Queen. Prince Harry's ring is a Platinum Band with a textured finish.
Meghan's wedding dress has been designed by the acclaimed British designer, Clare Waight Keller. Ms. Waight Keller last year became the first female Artistic Director at the historic French fashion house Givenchy. Ms. Markle expressed the wish of having all 53 countries of the Commonwealth with her on her journey through the ceremony. Ms. Waight Keller designed a veil representing the distinctive flora of each Commonwealth country united in one spectacular floral composition. The veil is held in place by Queen Mary's diamond bandeau tiara, lent to Ms. Markle by The Queen. The diamond bandeau is English and was made in 1932, with the entre brooch dating from 1893.
The Prince of Wales accompanied Ms. Meghan Markle down the aisle of the Quire of St George's Chapel today.
Her Majesty The Queen is giving a Lunchtime Reception at St George's Hall in Windsor Castle for around 600 guests drawn from the Wedding Service congregation.
The wedding cake is to be served at the Reception. It was designed by Claire Ptak and features elderflower syrup made at The Queen's residence in Sandringham from the estate's own elderflower trees, as well as a light sponge cake uniquely formulated for the couple. A filling made from Amalfi lemon curd and elderflower buttercream ties all the elements together. The cake is decorated with Swiss meringue buttercream and 150 fresh flowers, mainly British, and in season, including peonies and roses.
Sir Elton John has performed at the lunchtime reception for the newlyweds, The Duke and Duchess of Sussex.
The Duke and Duchess of Sussex departed Windsor Castle for a reception hosted by The Prince of Wales at Frogmore House, in a silver blue Jaguar E-Type Concept Zero. This vehicle was originally manufactured in 1968, and has since been converted to electric power.
Meghan wore Stella McCartney for her second gown, and a blue ring from Princess Diana's collection.
Now onto the photos!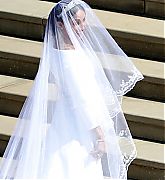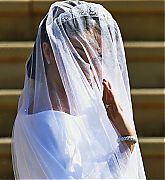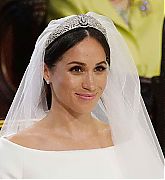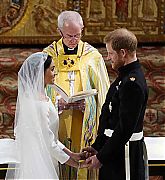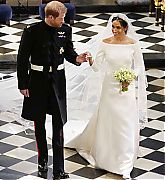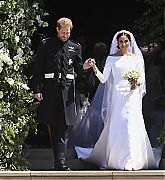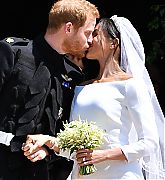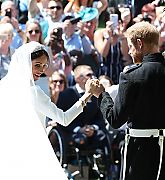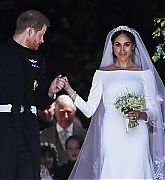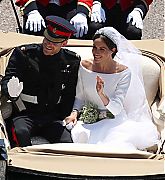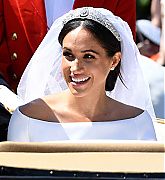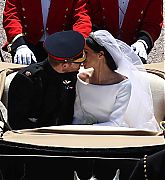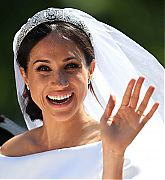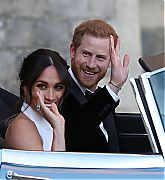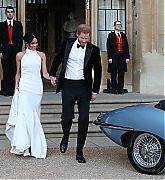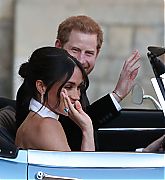 GALLERY LINKS
Appearances & Engagements Photos > Engagements in 2018 > The Royal Wedding > May 19 | The Royal Wedding