MONWABISI BEACH: The Duke and Duchess of Sussex traveled to Monwabisi Beach to learn about Waves For Change. Also known as, The Isiqalo Foundation, Waves For Change is a non profit organization that uses surfing as therapy for young adults in communities affected by violence, poverty and conflict, where mental health services are often stigmatized and under-resourced. Working in partnership with local community members they identify, train and resource mentors, who they work with to open programmes that service the youth of their own home communities.
Upon their arrival Harry and Meghan met founding director Tim Conibear and mentors of the organization before joining coaches and mentors in a mindfulness session, an activity which is designed to build confidence and resilience. which includes warm up dancing and clapping, a "power hand" activity, and meditation. Meghan revealed parenting is a new strength that she and Harry are learning and developing. Saying "He's the best dad." and he said "She's the best mum.".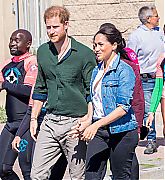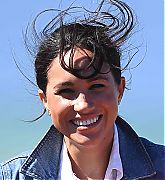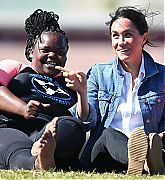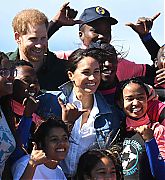 LUNCHBOX FUND: The couple also met staff from the Lunchbox Fund, which helps vulnerable children in the country get an education by providing 30,000 nutritious school meals daily to schools and Waves For Change programmes across South African townships and rural areas. The Lunchbox Fund was one of four charities chosen by Harry and Meghan to benefit from the generous donations made by the public on the the birth of their son, Archie Harrison Mountbatten-Windsor. Meghan chatted intently about some of the meals on offer, saying: "You need this after a long day." The couple also talked to Dr Thomas Maes, Director of the Commonwealth Litter Programme (CLiP) about the impact of micro plastics in the ocean and looked through a microscope at some of his samples.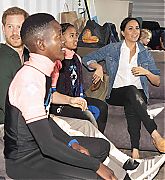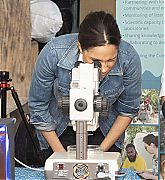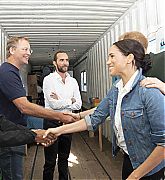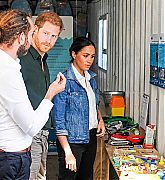 AUWAL MOSQUE: In the afternoon, The Duke and Duchess traveled to Bo Kaap, a area in Capetown. The couple first visted Auwal Mosque, the oldest mosque in South Africa. Harry and Meghan were greeted by mam Sheikh Ismail Londt and Muslim community leader, Mohamed Groenwald. The couple spent time speaking with students and representatives of various faiths to discuss the strength of interfaith dialogue in Cape Town. The couple also viewed the country's first known manuscript which was created by Tuan Guru purely from memory during his imprisonment on Robben Island.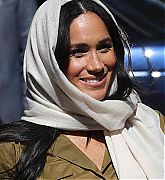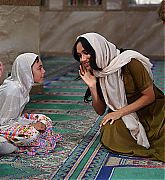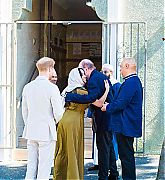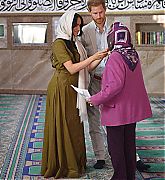 HERITAGE DAY: Afterwards, The Duke and Duchess greeted the eager crowds waiting to catch a glimpse of them as they walked the streets observing the Heritage Day celebrations. Heritage Day, is a public holiday celebrating the great diversity, belief and traditions that make up the rainbow nation of South Africa. To end the festivities Harry and Meghan visited the home of local resident Shamiela Sanodien for dessert and tea.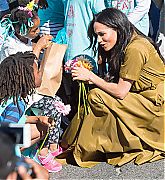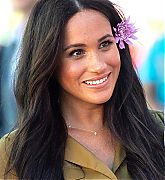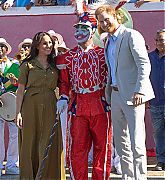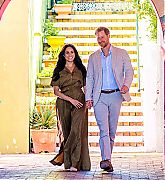 YOUNG LEADERS: Harry and Meghan concludeD their packed day with a reception at the British High Commissioner's Residence where they met young leaders and inspiring opinion-formers underpinning the rich and diverse nature of the UK's partnership with Africa.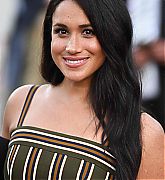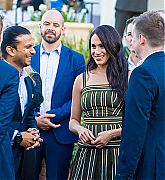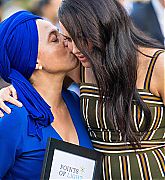 GALLERY LINK
Appearances & Engagement Photos > Engagements in 2019 > South Africa Tour > September 23 | South Africa Tour – Day 2 – Set 2
Appearances & Engagement Photos > Engagements in 2019 > South Africa Tour > September 23 | South Africa Tour – Day 2 – Set 2
Appearances & Engagement Photos > Engagements in 2019 > South Africa Tour > September 23 | South Africa Tour – Day 2 – Set 3