ARCH MEETS ARCHIE: Day 3 of the Royal Tour had an exciting start as The Duke and Duchess of Sussex introduced their son five month old son Archie Harrison Mountbatten-Windsor to Archbishop Desmond Tutu and his daughter, Thandeka Tutu-Gxashe. The Archbishop is a globally respected figure in the anti-apartheid movement, a champion of equality, and has spent his life battling injustice. Their Royal Highnesses joined The Archbishop and Thandeka at their Tutu and Leah Legacy Foundation in Capetown to learn more about the work of the foundation, which which contributes to the development of youth and leadership, facilitates discussions about social justice and common human purposes. Prince Harry previously met Archbishop Tutu during his 2015 tour of South Africa, when he presented him with an honor in recognition of his services to U.K. communities and international peace. Niclas Kjellstromn-Matseke, chairman of the Desmond and Leah Legacy Foundation said of the meeting: "Archbishop Tutu met the Queen and had a great relationship with her and here is her grandson," he says. "This is a generational thing. This is a hand over from the elderly to the younger."
During their visit the couple were given a tour of the foundation where displays marking the anti-apartheid clergyman's life and work are held, and were presented with a large amount of gifts including framed photographs of Harry's mom Diana meeting late President Nelson Mandela in 1997, (he even gave an extra for Harry to give to Prince William), children's books written by the Archbishop (Children of God Storybook Bible and Desmond and the Mean Word), a children's songbook). a book containing the work of anti-apartheid poet Patricia Schonstein and the Book of Joy, signed by the Archbishop and the Dalai Lama, and matching beaded bracelets handmade by members of Ikamva Labantu, which works in Cape Town focusing on early childhood development, after-school initiatives and the well-being of elder people.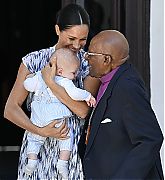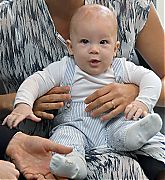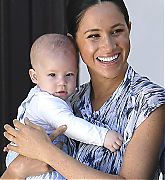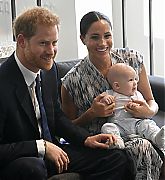 WOMEN & BABIES: Since Meghan's engagement to Prince Harry she has made it clear the her focus would be on supporting women's education, health, entrepreneurship and leadership and this engagement clearly puts a spotlight on that. In her first solo engagement of this tour while Prince Harry travels to Botswana, The Duchess visited The Woodstock Exchange for a 'Ladies who Launch' event where she met female entrepreneurs and investors working in technology. Meghan joined a panel discussing a number of topics including their businesses, struggles and triumphs, women supporting women, and motherhood. As Meghan departed she shared a special moment with a group of individuals who she gave a group hug to and a young girl who cried upon meeting Meghan.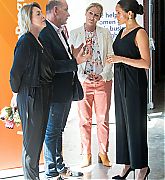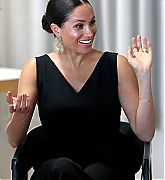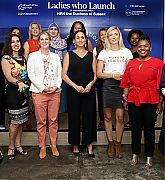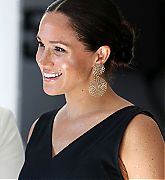 In her second solo engagement Duchess Meghan visited Mothers2Mothers, an organization that trains and employs women living with HIV as community health workers. These "Mentor Mothers" work in local communities and at understaffed health facilities to ensure that women and their families get the health advice and medication they need, are linked to the right clinical services, and are supported on their treatment journey. The employment enables Mentor Mothers to gain financial security for themselves and their families. By virtue of being professionalised, Mentor Mothers become role models, putting a face to empowered, strong, and healthy HIV-positive women, and thereby helping to reduce HIV-related stigma and discrimination.
During her visit The Duchess met with staff, clients, mothers and their children to hear about their work and how they have been supported. Following her "community not charity" motto The Duchess of Sussex donated two large bags of Archie's clothing that he has outgrown as well as clothing donations from her friends who have children and coloring books, and pencils. Meghan said: "It's so important we're able to share what's worked for our family and know that we're all in this together with each other. So we wanted to share something from our home to each of yours."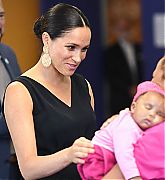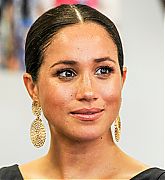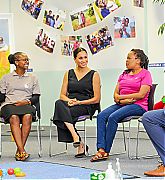 GALLERY LINK
Engagements in 2019 > South Africa Tour > September 25 | South Africa Tour – Day 3 – Set 1
Engagements in 2019 > South Africa Tour > September 25 | South Africa Tour – Day 3 – Set 2