On September 26, 2019 The Duchess of Sussex made a private visit to the memorial site of Uyinene Mrwetyana, a 19-year-old student who was brutally tortureed, raped and murdered outside of a post office in an act of gender based violence that has been an issue and cause of protest throughout the streets of South Africa.
According to the Sussex Royal Instagram Account Harry and Meghan had been closely following what had happened and were both eager to learn more when they arrived in South Africa. The Duchess even spoke to the mother of Uyinene this week to relay their condolences.
During her visit to the memorial site, Meghan tied a yellow ribbon among the others with "Simi kunye kulesisimo: We stand together in this moment" written in Xhosa. This trip was incredibly important to the Duchess as she wanted to recognize Uyinene, and all women and girls effected by Gender Based Violence (specifically in South Africa, but also throughout the world).
Sussex Royal also revealed that Meghan has taken on a number of private visits and meetings over the last two days to deepen her understanding of the current situation and continue to advocate for the rights of women and girls.
On Thursday morning, The Duchess also attended a private breakfast for "Women In Public Service" at the High Commission in Cape Town. The invited guests have played a role in the development of South Africa's institutions, and continue to advocate for women's rights, education and healthcare. No photos from this event have been released yet and at the time reporters said we would hear more about it "later this week".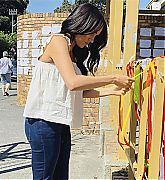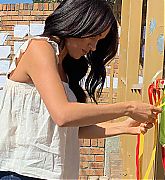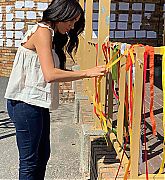 GALLERY LINK
Engagements in 2019 > South Africa Tour > September 26 | South Africa Tour – Day 4 – Set 1