On September 30, 2019 The Duchess of Sussex made a unannounced visit to Johannesburg's Victoria Yards, a place for artisans and craftspeople to work and share their creations.
Meghan visited several organizations and small businesses including Sneakers 4 Change, an organization that collects and donates sneakers to those who are less fortunate and Young Bucks, a small business that makes books from recycled materials. During the stop, Meghan revealed that she used to teach a bookbinding class. At Sobae Frozen, a small business inspired by a desire to reduce food waste, The Duchess sampled flavors of vegan sherbet made from unused fruit from Victoria Yards.
The Duchess met Tshepo Jeanmaker, a local designer from Soweto who makes custom jeans,he revealed that he received a call from the British Embassy last month requesting he create a pair of jeans for Meghan. He also created a pair of overalls for Archie and was quite surprised that The Duchess picked them up herself.
Meghan also toured Delaney Studio with Contemporary artist James Delaney who works in paint, sculpture, charcoal and print from his studio at Victoria Yards. The Duchess also chatted with several craftsmen and artisans.
At the end of her visit, The Duchess was moved by the original poetry of Belita Andre, the winner of the Poetry Grandslam. In her reading she said: "The Maker's Valley is a social and enterprise hub, a wave between my corner of the world and yours. Insisting that beyond the anchors of survival. How to make sure that everyone gets to shore, pass around an ocean of stars, not because our sleepless nights are equal but because our dreams are."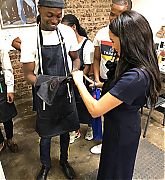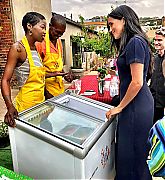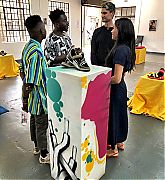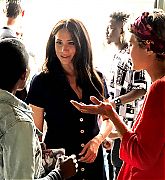 GALLERY LINK
Appearances & Engagements Photos > South Africa Tour > September 30 | South Africa Tour – Day 8 – Set 1