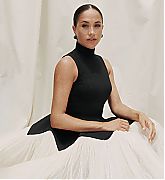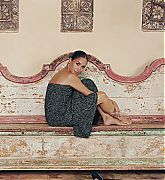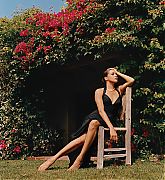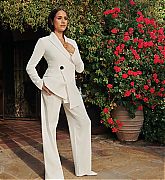 The conditions are right for confession. It is a beautiful August day in Montecito, in a beautiful sitting room, in a beautiful home. Archie Harrison Mountbatten-Windsor, a lively 3-year-old with a shock of ginger curls identical to his father's, toddles into the room demanding "Momma" listen to his heartbeat with a wooden toy stethoscope. He stands, tummy protruding, while his mother, Meghan, convincingly performs her glee at hearing the thump-thump, thump-thump in his chest. Archie giggles and, satisfied, toddles right back out again.
Meghan, relaxing in a cozy chair, gazes over all that is climate-controlled and high-ceilinged and sun-dappled and perfectly marshmallowy, and hers. An invisible hand has lit a Soho House–branded rose-water candle (the founder, Nick Jones, is a friend from "long before I met Harry," she says), and that scent fills the air, mingling with the gentle tones of a flamenco-inflected guitar floating from a speaker. Then, in the lull in conversation, Meghan turns to me and leans forward to ask in a conspiratorial hush, "Do you want to know a secret?"
Meghan, silenced no more, looks around, making sure nobody (who would be?) is listening in. Then the top-secret drop: "I'm getting back … on Instagram," she says, her eyes alight and devilish.
This could have been a troll: Delivering a nothing with such gravitas feels as if Meghan, who has been so trolled by the media, is serving it back, just a little. But, as I quickly realize, it is actually news. Before this chapter in her life, before everything difficult that spun off from marrying the Duke of Sussex and, along with him, the British monarchy, she was just Meghan Markle, a woman with a plum role on a USA procedural and a moderately popular lifestyle blog, The Tig. As herself, she'd amassed 3 million Instagram followers by sharing snippets of a basic life: yoga, food she liked, hikes with friends, her beagle, Guy. Fans watched as she attended events with her Suits castmates and charity galas, nights out at Soho House in London and Toronto. She ran that account for years before she met Harry, but on the heels of their engagement, control over her Instagram was just one of the things (along with The Tig, her passport, and the freedom to open her own mail) she gave up. She'd loved sharing her life with people, she says, but she loved Harry more. "It was a big adjustment — a huge adjustment to go from that kind of autonomy to a different life," says Meghan.
Read more at source