Prince Harry and Duchess Meghan rang in Mental Health Awareness Month by paying a visit to a youth group in Santa Barbara, California.
The couple met with AHA! Santa Barbara, a nonprofit that works with teenagers, families, and educators to provide kids with resources and tools to develop emotional intelligence. During their visit, Harry and Meghan got "to learn firsthand about this generation's experiences with social media and societal pressures, and how it affects their mental well-being. The couple engaged with these amazing youth in candid conversation, working to find solutions together," according to a statement released by Archewell, the organization Harry and Meghan founded in 2020.
Photos show the duke and duchess laughing and smiling next to each other as they sit amongst a circle of teens. Meghan looked sophisticated in a sleek all-black ensemble composed of a black ribbed sweater tucked into a black pencil skirt. She accessorized with a crystal pendant necklace, stacks of gold and diamond bracelets, and a few rings. Meanwhile, Harry cut a casual figure in a collared navy-blue long-sleeve, blue jeans, blue slip-ons, and a few beaded bracelets.
"The Duke and Duchess of Sussex spoke with teens ages 14-18 about the opportunities social media can provide for connection and community, as well as the ways in which it also raises issues of insecurity, peer-pressure, and potential for self-harm, among other risks," the statement continued. "These important perspectives and experiences help us understand how mental wellness intersects with the online world, and what it means to promote digital wellness in a digital age."
The statement concludes: "[The Archewell Foundation] holds a core belief that mental health is of the utmost importance, and underpins all of our work. We are regularly meeting with young people, parents, and professionals to understand the challenges they may be facing while working together to drive towards long-term solutions on- and offline."
Both Harry and Meghan have been outspoken about their personal struggles with mental health and have advocated for normalizing reaching out for help.
During a 2022 episode of her Spotify podcast, Archetypes, Meghan revealed that Harry helped her find a mental health professional when she was at her "worst point."
"I called this woman. She didn't know I was even calling her," Meghan said. "And she was checking out at the grocery store. I could hear the little beep, beep, and I was like, 'Hi,' and I'm introducing myself and can literally hear her going, 'Wait, sorry—I'm just—who is this?' … And she could hear the dire state that I was in."
Meghan continued, "But I think it's for all of us to be really honest about what it is that you need and to not be afraid to make peace with that, to ask for it."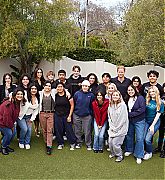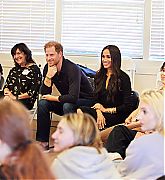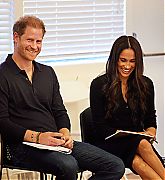 GALLERY LINK
Post royal life engagements (2022) may | visiting aha! santa barbara