Meghan Markle is joining in the fun at the Invictus Games!
Meghan and Prince Harry turned up to watch one of the latest contests at the 2023 event in Düsseldorf, Germany on Wednesday morning, where they met some of the competitors at the wheelchair basketball contest between Ukraine and Australia before sitting in the stands — and taking part in a celebratory group wave.
The Duke and Duchess of Sussex were spotted chatting with, signing autographs and posing for photos with competitors and spectators at the outing.
Meghan, 42, and Harry, 38, also watched a children's event, handing out medals and giving high fives to the young participants.
The Düsseldorf event is the sixth Invictus Games, following previous events in London, Orlando, Sydney, The Hague and Toronto — where Meghan and Harry made their first public appearance as a couple in 2017.
The adaptive sports competition for injured, sick and wounded service personnel and veterans is the brainchild of Harry and was set up in 2014.
Having originally appeared at the 2023 event alone, Harry was reunited with Meghan after she flew into Dusseldorf from Los Angeles on Tuesday. She is expected to remain in Germany until the closing ceremony of the Games on Saturday, which follows Harry's 39th birthday on Friday.
"It is so special to be here, and I'm so sorry that I was a little late for the party," Meghan said at a special party for Family & Friends shortly after her arrival on Tuesday, before revealing that the couple's kids Prince Archie, 4, and Princess Lilibet, 2, had been partly responsible for the delay.
"Just like so many of you, we know this is about family and friends and the community that Invictus has created, that Fischer House has created, and so I had to just spend a little bit more time getting our little ones settled home," the Duchess of Sussex added in her speech.
"Getting milkshakes, doing school drop off and then I just landed a couple of hours ago. I am thrilled that the first event that I can do with Invictus is here with all of you."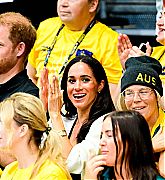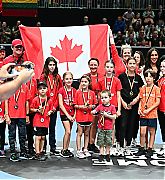 GALLERY LINK
Post royal life engagements (2023)
September 13 | Invictus Games Düsseldorf 2023 – Day 4
Source: https://people.com/