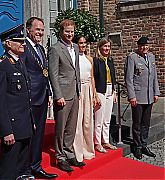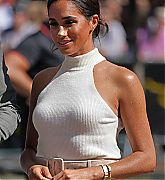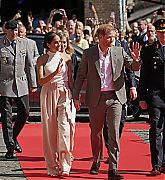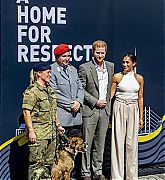 Prince Harry and Meghan Markle are already fired up about next year's Invictus Games!
The Duke and Duchess of Sussex stepped out in Düsseldorf, Germany on Tuesday for the Invictus Games' One Year to Go event.
Harry, 37, and Meghan, 41, walked a red carpet hand-in-hand and were greeted by local officials at city hall. The couple also made sure to give a few pets to a service dog named Loki, who was sporting an Invictus Games bandana — after all, the animal lovers have three dogs at home in California, including their newest member of the family, Mia.
The German hub was first announced as a future host city for the Invictus Games — Harry's international adaptive sports competition for injured, sick and wounded service personnel and veterans — in 2020 with the event initially set for 2022. However, when the coronavirus pandemic delayed the 2020 Invictus Games in The Hague, the Netherlands until 2022, preparations for Düsseldorf were also bumped back.
Now, the Invictus Games are finally set to commence in the German city from September 9 to 16, 2023.
A cause close to his heart, Prince Harry launched the Paralympic-style sports tournament in 2014 after attending the 2013 Warrior Games in the U.S., inspired by the transformative physical, psychological and social powers of sports for those who have served.
Continue reading Meghan Markle and Prince Harry Arrive Hand-in-Hand for 1-Year Countdown for Invictus Games in Germany