Meghan Markle and Prince Harry are in the Netherlands and getting ready for the Invictus Games.
On Friday, the couple made their first appearance at a welcome reception for teams as well as their family and friends in The Hague. Meghan sported an all white ensemble featuring wide-leg trousers with a matching oversized blazer, while Harry opted for a suit sans tie.
The couple met members of Ukraine's team, who gifted Prince Harry with a calendar from the organization Come Back Alive. Launched in 2014, Come Back Alive became the biggest organization providing support to the Armed Forces of Ukraine, according to their website.
This evening, the Duke and Duchess of Sussex will also attend a second reception for dignitaries hosted by the City of The Hague and Dutch Ministry of Defence.
On their way to the Invictus Games, Meghan and Prince Harry made a stop in the U.K. to visit with Harry's grandmother Queen Elizabeth.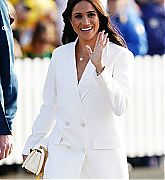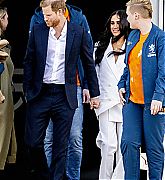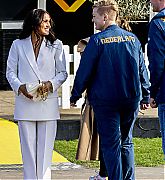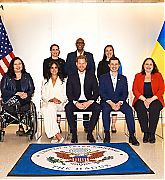 GALLERY LINK
Post royal life engagements (2021) april 15 | invictus games the hague 2020 – reception