Today,
June 29, 2019
Meghan, Duchess of Sussex made a surprise appearance at the Boston Red Sox VS New York Yankees Baseball Game.
In her second public appearance while on maternity leave, The Duchess of Sussex joined Prince Harry, Duke of Sussex to watch the first of a two game series of the Major League Baseball (London Series), in support of Invictus Games.
Tonight's game between the New York Yankees and Boston Red Sox took place at London stadium, Olympic Park and is the first time Major League Baseball are hosting two regular season games in Europe.
Invictus Games has been selected as charity partner for the Major League Baseball 2019 Series. The Invictus Games Foundation is the international charity that oversees the development of the Invictus Games, an international adaptive multi-sport event in which wounded, injured or sick armed service personnel and veterans participate. It celebrates the power of sport in recovery and how it can help, physically or psychologically, those suffering from injuries or illness.
As part of the partnership, the Invictus Games Foundation have a team participating in London's Softball 60, the social softball series built for the city and targeted to introduce the sport to new audiences and demonstrate that it is an inclusive sport.
During their visit The Duke and Duchess of Sussex met with players from The New York Yankees and Boston Red Sox where they received gifts for Baby Archie. Afterwards, the couple attended a reception for Invictus Games competitors and their friends and family.
Before settling in the watch the game Harry and Meghan headed to the field with competitors to observe the national anthems performed by the Kingdom Choir, who performed at the couple's wedding and to see the first pitch be thrown.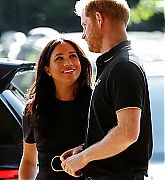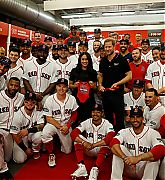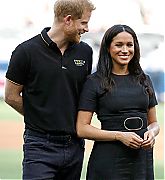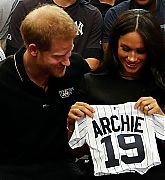 GALLERY LINK
Appearances & Engagements Photos > Engagements in 2019 > June 29 |Boston Red Sox VS New York Yankees Baseball Game