SPOTTED: The Duke and Duchess of Sussex leaving Sydney Airport and heading to Admiralty House! 😍 pic.twitter.com/xivTTLMsGb

— Sunrise (@sunriseon7) October 14, 2018
It's Sunday night here in the states as well as other places in the world, but it's early Monday morning in Sydney, Australia. The Duke and Duchess of Sussex touched down at Sydney Airport around 7 am (Sydney, Australia time) on a commercial Qantas flight. The duo were whisked away quickly and driven to Admiralty House where they will be staying while in Sydney. The couple will be spending the day relaxing and prepping for the busy days ahead. Meghan seems to be hard at work preparing for all of the upcoming meetings and engagements, as you can see from the purple binders she's holding. Official engagements won't start until October 16 (Sydney, Australia time). You can check out tomorrow's schedule below.
I have added 4 high quality photos to the gallery. More will be added at a later time. Enjoy!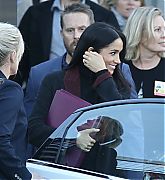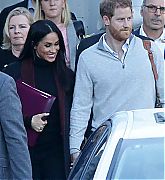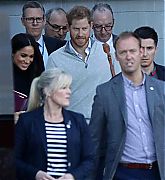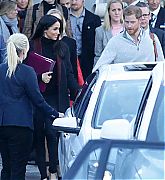 GALLERY LINK
Engagements In 2018 > Commonwealth Tour > October 15 | Commonwealth Tour – Day 0 – Set 1
Tuesday October 16, 2018 – Day 1 – Sydney Australia
Official Welcoming – The Duke and Duchess of Sussex will begin the tour with an official welcoming reception at Admiralty House, the official Sydney residence of the Governor-General of Australia, His Excellency General the Honourable Sir Peter Cosgrove and Lady Cosgrove. Representatives from each of the eighteen countries who are participating in the Invictus Games Sydney 2018 will be present.
Taronga Zoo – The Duke and Duchess will then travel to Taronga Zoo to officially open the new Taronga Institute of Science and Learning. The visit will also be attended by the New South Wales (NSW) Premier, The Duke and Duchess will meet two koalas and their joeys that are part of the Zoo's breeding programme, and visit the laboratory to meet female conservation scientists who are working on efforts to reduce illegal wildlife trafficking.
Sydney Opera House – To depart the Zoo, The Duke and Duchess will travel by vessel across Sydney Harbour to the Sydney Opera House. Once inside, Their Royal Highnesses will view a rehearsal of Spirit 2018 by the Bangarra Dance Theatre, an internationally acclaimed Aboriginal and Torres Strait Islander modern dance company. Upon departure, walking along the Opera House forecourt, The Duke and Duchess will have an opportunity to meet members of the public.
Evening Reception – The first day of the visit will conclude with a Reception hosted by the Governor-General at Admiralty House, to be attended by Australians from a broad range of sectors including charity and community, business and industry, arts and culture, sport and entertainment.