FIJI DEPARTURE: The Duke and Duchess traveled to the city of Nadi in Western Fiji, where they attended a special event at Nadi Airport. The couple arrived on a seaplane after spending the night at Vatuvara private Island resort. After an official welcome ceremony, The Duke and Duchess unveiled a new statue commemorating Sergeant Talaiasi Labalaba, a British-Fijian soldier who lost his life in the 1972 Battle of Mirbat. The event will be attended by the President of Fiji, and senior representatives from government and the Armed Forces.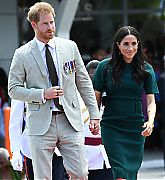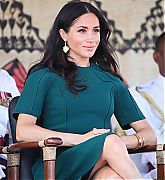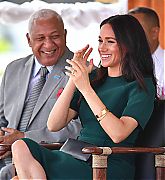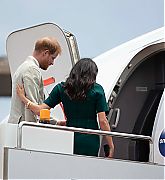 VIDEOS: Fiji Pays Farewell To Harry And Meghan | Farewell Ceremony
TONGA ARRIVAL: From Nadi Airport, Their Royal Highnesses took a chartered flight to Tonga, where they were met at Fua'amotu Airport by Her Royal Highness The Princess Angelika Latufuipeka. Harry and Meghan received a warm welcome from the locals. To the delight of many Meghan wore a red dress. A nod to sartorial diplomacy as the Tonga flag is red and white.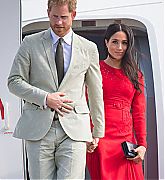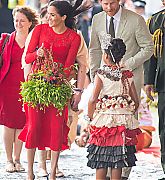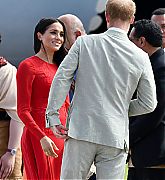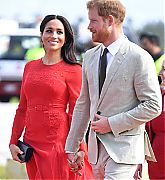 VIDEOS: Warm Welcome For Harry And Meghan
RECEPTION AND DINNER: That evening, The Duke and Duchess visited Consular House in central Nuku'alofa for a private audience with His Majesty King Tupou VI and Queen Nanasipauʻu, followed by an official reception and dinner, and traditional Tongan entertainment.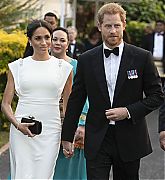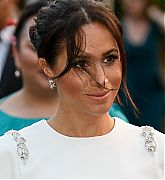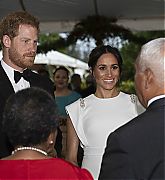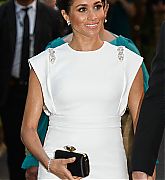 GALLERY LINK
Engagements In 2018 > Commonwealth Tour > October 25 | Commonwealth Tour – Day 10 – Set 1
Engagements In 2018 > Commonwealth Tour > October 25 | Commonwealth Tour – Day 10 – Set 2
Engagements In 2018 > Commonwealth Tour > October 25 | Commonwealth Tour – Day 10 – Set 3