The Duke and Duchess battled a snowy weather conditions for a day of engagements in Bristol. Arriving a few minutes late by train, Their Royal Highnesses jumped right into their walkabout greeting well-wishers who had lined the streets to see them before heading to their first stop, Bristol Old Vic, the oldest continuously working theatre in the English speaking world. Once inside the couple toured the recently renovated theater, chatted with students taking part in workshops and enjoyed a performance from the Young Company from their production 'Hercules'.
VIDEOS: Duke and Duchess Brave the Snow in Bristol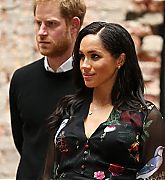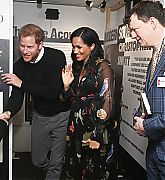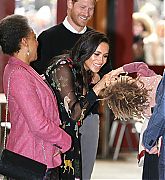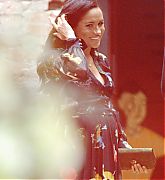 The Duke and Duchess then made a surprise visit to the One 25 Charity to see how they are helping women to break free from street sex-work, addiction and other life-controlling issues. They met with volunteers who help run the outreach programme and Meghan helped pack lunches and warm clothing which will be distributed to women working on the streets. A key moment from this event came when Meghan decided to write positive messages on banana skins.
VIDEOS: Duchess of Sussex writes encouraging messages for sex workers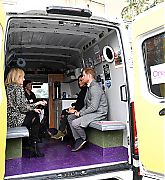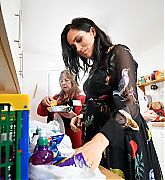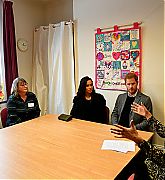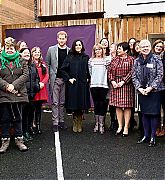 Lastly, The Duke and Duchess visited Empire Fighting Chance, a charity that supports children who are failing at school and in danger of drifting into a life of unemployment or even crime, and helps them turn their lives around. Harry and Meghan chatted with young girls taking part in the program, while Harry had a key moment himself, clearing the room to talk for ten minutes with a boy whose father had passed away.
VIDEOS: Duke and Duchess of Sussex visit Bristol boxing gym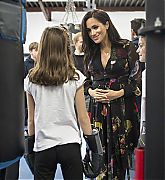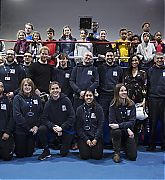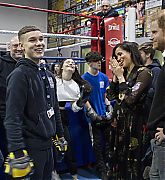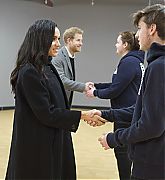 GALLERY LINK
Appearances & Engagements Photos > Engagements in 2019 > February 01 | The Duke and Duchess of Sussex Visit Bristol