Yesterday, July 13, 2019 The Duchess of Sussex attended the Wimbledon Ladies' Singles Final at The Championships.
The Duchess accompanied The Duchess of Cambridge and her sister Pippa Matthews to watch Serena Williams play Simona Halep. The Ladies' Singles Final match was a quick one as Simona Halep beat Serena Williams in 55 minutes to win her first Wimbledon title.
Meghan looked a bit distraught at her friend's loss, but it was otherwise a great outing for The Duchess of Cambridge and The Duchess of Sussex. Meghan and Pippa looked like they get along great as well.
Hopefully, the Duchesses attending Wimbledon will become a tradition!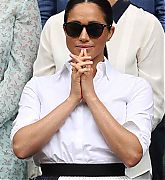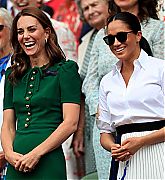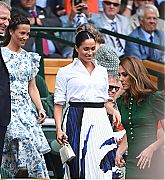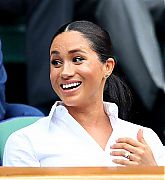 GALLERY LINK
Appearances & Engagements Photos > Engagements in 2019 > July 13 | Wimbledon – Day 12 – The Championships