On October 22, 2019 The Duchess of Sussex attended The One Young World Summit Opening Ceremony.
One Young World is an organization that identifies, promotes and connects the world's most impactful young leaders to create a better world, with more responsible, more effective leadership.
The annual One Young World Summit convenes the brightest young talent from every country and sector, working to accelerate social impact. Delegates from 190+ countries are counselled by influential political, business and humanitarian leaders. This year the summit took place in London.
Meghan has served as a Counselor in One Young World Summits before in 2014 in Dublin, and 2016 in Ottawa., alongside the Prime Minister of Canada Justin Trudeau and other high profile figures.
This year, The Duchess attended in her role as Vice President of the Queen's Commonwealth Trust, which partnered with One Young World to bring 53 young leaders from across the Commonwealth to attend The Summit. These leaders from across the Commonwealth are delivering tangible impact on the organisation's key focus areas: achieving change through sport, preserving and protecting the environment, creating healthier communications and increasing access to quality education.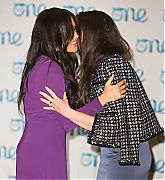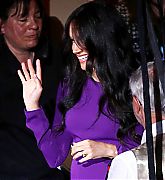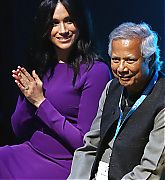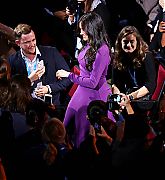 GALLERY LINK
Appearances & Engagements Photos > Engagements in 2019 > October 22 | The One Young World Summit Opening Ceremony