On October 25, 2019 The Duchess of Sussex joined by Prince Harry attended a round table discussion on gender equality with the Queen's Commonwealth Trust and One Young World at Windsor Castle.
Meghan is continuing her work with One Young World after attending the opening ceremony earlier in the week. This year One Young World partnered with the Queens Commonwealth Trust, of which The Duke and Duchess are President and Vice-President of to provide scholarships to young leaders driving positive social impact in the Commonwealth.
The Duchess said: "I think we're all aware that One Young World has been very important to me for several years and now being vice president of QCTrust – it just felt like the perfect medley. What you're all capable of doing independently is incredible but then when you work collectively, our intention today is to try to create somewhat of a task force to see what we can do within our communities and then use that knowledge to apply it to whatever is happening in all these other communities. In terms of gender equality, which is something I have championed for a long time, I think that conversation can't happen without men being a part of it."
The roundtable was led by Queens Commonwealth Trust chief executive Nicola Brentnall and moderated by One Young World counsellors, social media influencer Rossana Bee and Canada's first openly gay Olympic gold medallist Mark Tewksbury.
The Duke and Duchess also heard from the founder of the south African organisation Motholung Network Against Women and Child Abuse, Lebogang Bogopane, about her personal experiences of familial domestic violence.
At the end of the meeting The Duchess said "I can't wait for our update in three months to hear how you are all doing. Thank you for being an inspiration."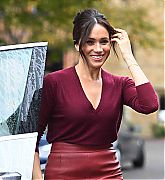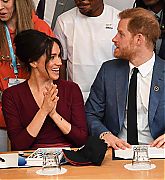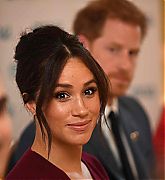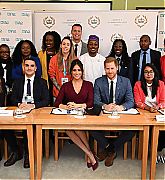 GALLERY LINK
Appearances & Engagements Photos > Engagements in 2019 > October 25 | Roundtable Discussion With The Queens Commonwealth Trust