In a surprise moment on Saturday, Prince Harry and Meghan Markle joined Prince William and Kate Middleton for a walkaround at Windsor Castle following the death of William and Harry's grandmother, Queen Elizabeth.
Dressed in black, the foursome were seen greeting onlookers and emotionally taking in the flowers and other memorial items left for the late monarch, who died on Thursday at age 96.
Kensington Palace says William, 40, invited the Duke and Duchess of Sussex to join him and Kate, 40, who was recently named Princess of Wales alongside her husband's new Prince of Wales title.
Prince William thought the walkabout to greet the crowds "was an important show of unity at an incredibly difficult time for the family," a royal source tells PEOPLE.
The reunion among William, Kate, Harry and Meghan is poignant, as relations have been strained between the Duke and Duchess of Sussex and members of the royal family in recent years, including an ongoing estrangement from William and Kate.
Before the Queen's death — which occurred while the U.S.-based Harry, 37, and Meghan, 41, were already in the U.K. for charity events — the couple were last in the nation in June to help celebrate Queen Elizabeth's Platinum Jubilee, but there was no public interaction between the couple and William, Kate and the rest of Harry's immediate family members.
They did, however, privately introduce Charles to his granddaughter Lilibet, 1, for the first time, which also gave him the chance to see his 3-year-old grandson Archie, PEOPLE learned at the time.
"It was a fantastic visit. The prince was delighted to see his grandson and meet his granddaughter for the first time," a royal source said, adding that it was "wonderful" to have Harry and Meghan back in Britain.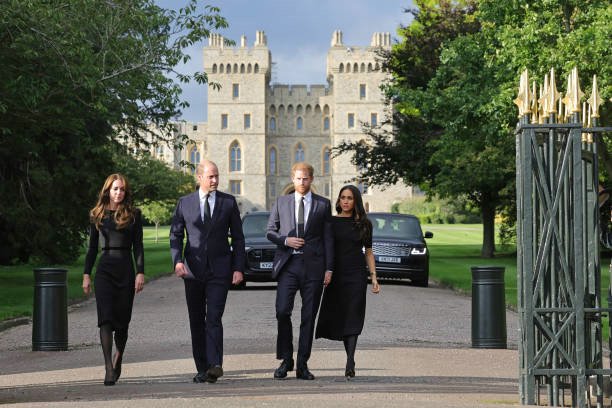 Source: https://people.com