Meghan Markle and Prince Harry were among the big names who joined Kevin Costner at a One805 charity fundraiser in Santa Barbara, California, on Friday.
The actor hosted the One805LIVE! Fall 2023 fundraiser — which was held in support of the first responder community and headlined by band Maroon 5 — at his 1.4-acre beachfront estate, days after he and estranged wife Christine reached a settlement in their divorce.
Christine, 49, was not seen in photos of the event, though her name is listed alongside Kevin's as hosts of the fundraiser on the charity's website, which detailed that the event would "take place on the oceanside estate of Kevin and Christine Costner."
One805 provides financial aid and mental health support to first responders, and in a video posted by the charity on Instagram, Kevin, who is also an ambassador of One805, appeared onstage with the Duke and Duchess of Sussex as they presented him with an award at the fundraiser.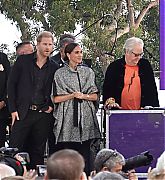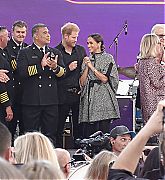 GALLERY LINK
Post royal life engagements (2023)
September 22 | One805 Live!
Source: https://people.com/