After a successful first day The Duke and Duchess spent the second day of their sixteen day tour in Dubbo, Australia. Engagements of the day had them interacting closely with the Dubbo community and surrounding areas. Engagements include visiting the Royal Flying Doctor and Victoria Park.
ROYAL FLYING DOCTOR SERVICE: Their Royal Highnesses will fly to the town of Dubbo, situated on the Macquarie River, 300 kilometres northwest of Sydney. On arrival in Dubbo, The Duke and Duchess visited the Royal Flying Doctor Service to learn more about the life-saving role the aviation service provides for people living in rural and regional areas. During their visit they helped celebrate 90 years by unveiling a new aircraft for the Royal Flying Doctors Service and cut the celebratory cake.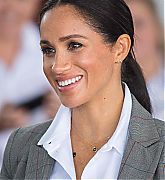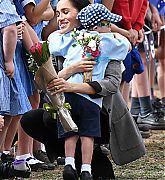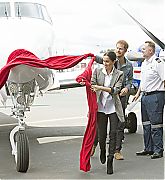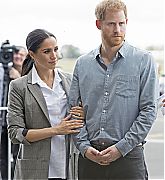 VIDEOS: Harry And Meghan Greet A Young Boy | Unveiling New AIrcraft For Royal Flying Doctors Service
MOUNTAIN VIEW FARM: With most of the state of New South Wales suffering from drought, Their Royal Highnesses will see first-hand the hardships local farmers are facing by visiting a local property. During their visit Harry and Meghan met with the Woodley family who have been running a livestock and crop farm for over five generations since 1887. The Duke and Duchess pitched in when it came time to feed the cattle. In a very hospitable gesture The Duchess of Sussex brought the family a load of banana bread she had baked at the Admiralty House the night before and Fortnum & Mason Royal Blend tea. A Palace aide said: "She loves baking and just decided to take something along with her on the spur of the moment."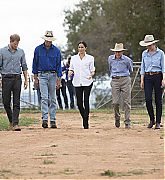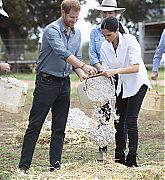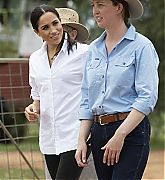 VICTORIA PARK: The Duke and Duchess then traveled to Victoria Park to join people from Dubbo and surrounding areas at a picnic in the park to celebrate community spirit within the region. Members of the public were invited to attend, and His Royal Highness gave an address in the pouring rain much to everyone's delight. Meghan held the umbrella for Harry as she stood by his side.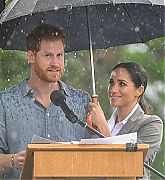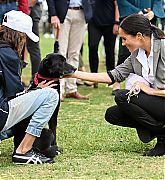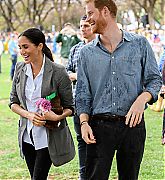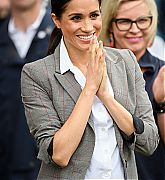 VIDEOS: Harry And Meghan Bring The Rain To Victoria Park
SPORT AND EDUCATION: In the afternoon, The Duke and Duchess visited a local school working to improve the education outcomes of young Aboriginal and Torres Strait Islanders. Their Royal Highnesses met students and staff learning more about their work to improve life skills and employment prospects for Indigenous men, and reduce barriers keeping Indigenous female students from completing their education. In a separate embargoed (not previously announced) engagement Meghan stepped out on her own for her first solo engagement of the tour to meet and speak with students from Girls Academy.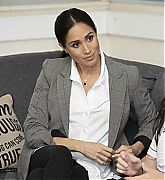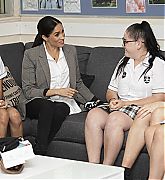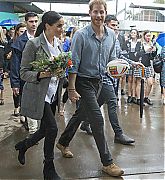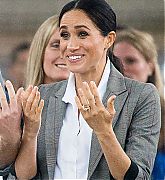 VIDEOS: Harry And Meghan Get Warm Welcome From Students
GALLERY LINK
Engagements In 2018 > Commonwealth Tour > October 16 | Commonwealth Tour – Day 2 – Set 1