After banana bread and rain storms, Day 3 of Royal Visit Australia kicks off in Melbourne! The third day of The Duke and Duchess's visit to Australia was a busy one with six scheduled engagements and a few embargoed stops along the way.
OFFICIAL RECEPTION: Their Royal Highnesses will fly to Melbourne where the day will begin with a short walk to Government House, meeting members of the public along the way, before attending an official Reception at Government House. A diverse group of young Victorian leaders and community members will attend the Reception, including Queen's Young Leader Hunter Johnson from The Man Cave. A demonstration of various sporting activities will take place in the grounds, with ambassadors from the This Girl Can campaign. Meghan was even persuaded to toss a rugby ball during the demonstrations. Once inside Harry and Meghan raced a scaled, miniature Formula 1 car designed and made by Trinity Grammar students. A hysterical moment ensued when the cars were launched, watch the video before to see Meghan get a surprise!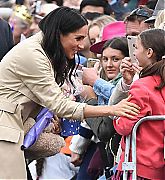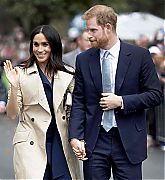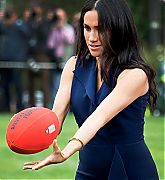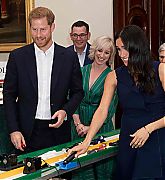 VIDEOS: Meghan Gets A Surprise | Meghan Joins In On Rugby Demostrations
ENTERPRISE CAFE: The Duke and Duchess visited Charcoal Lane, a social enterprise café which offers leadership, mentoring and training programmes for young Aboriginal people. Upon arrival the pair were shown a mural outside the building created by artist Robert Young, of Gunnai and Waradgerie heritage. Inside, Meghan was totally comfortable in the kitchen chatting with the head chef, Greg Hampton as he offered a crash course in indigenous Australian ingredients with a "touch, taste and smell" session. Afterwards, Harry and Meghan had lunch at the cafe.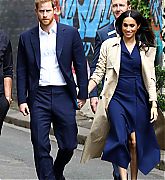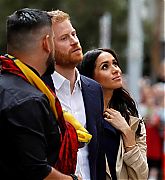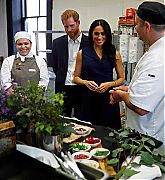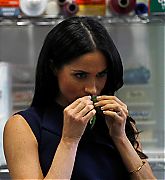 VIDEOS: Harry And Meghan Get A Lession In Australian Food
WASTE WARRIORS: After a quick outfit change, and a ride on the iconic Melbourne tram Their Royal Highnesses visited Albert Park Primary School and met students who are involved in sustainability programmes. They call themselves the 'Waste Warriors'. The Duke and Duchess learned how they use compost bins, a worm farm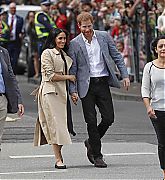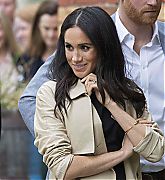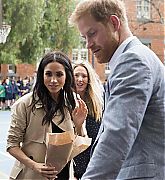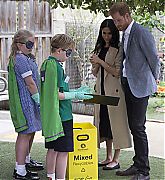 VIDEOS: Speaking With Students About Sustainability
SOUTH MELBOURNE BEACH: Upon departure from the school, The Duke and Duchess headed to South Melbourne beach, where they met volunteers from a local beach patrol programme. Here Their Royal Highnesses learned about efforts to keep Port Phillip Bay beaches and foreshores clear of litter to reduce the negative impact on the marine environment.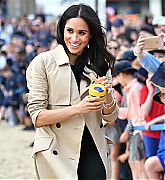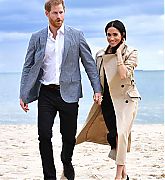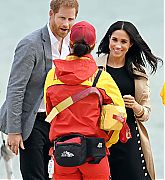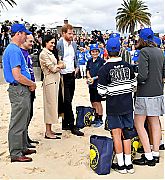 VIDEOS: Harry And Meghan In South Melbourne
GALLERY LINK
Engagements In 2018 > Commonwealth Tour > October 18 | Commonwealth Tour – Day 3 – Set 1
Engagements In 2018 > Commonwealth Tour > October 18 | Commonwealth Tour – Day 3 – Set 2