And it's back to Sydney for Day 4 Royal Visit Australia!
BONDI BEACH: Their Royal Highnesses visited Bondi Beach, one of Australia's most famous landmarks. The Duke and Duchess met with a local surfing community group, known as OneWave, raising awareness for mental health and wellbeing in a fun and engaging way. Their Royal Highnesses took part in the "Fluro Friday" session, where people of all ages share their experiences of mental health issues, they also had the opportunity to interact with others enjoying yoga and surfing. Before departing, The Duke and Duchess had met with many excited members of the public gathered on the beach.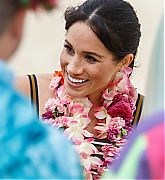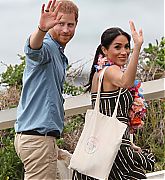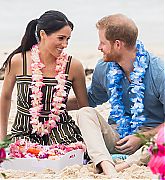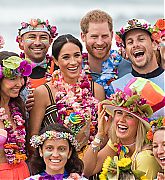 VIDEOS: Harry And Meghan Attend 'Fluro Friday' Session
YOUTH EMPOWERMENT: Later that morning, Their Royal Highness visited MacArthur Girls High School and the National Rugby League's In Harmony programme, that aims to unite and inspire young people to be advocates for cohesion and inclusion in their communities. The Duke and Duchess met with representatives and talked with students about issues including social justice and youth empowerment. It's reported that Meghan told the girls:
You guys all remind me so much of myself when I was growing up. I went to an all girls school which was incredibly diverse as well. I think being around such empowered young women, it becomes something that you all just grasp onto to understand your world. It's made you confident and well-spoken. You have an intention set to really do something to change the world, and you have to keep it up. It makes me so emotional. You're doing really, really good work and I'm so happy that we're here. We give you our full support." The teenage girls had worked on a project to make boxes for vulnerable women, taking donated supplies to police stations and refuges. They've also produced a book for young children teaching them about poverty and being kind to others."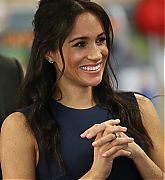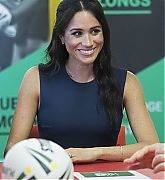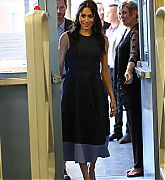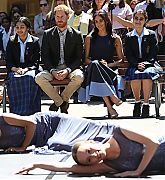 VIDEOS: The Duke And Duchess Enjoy A Performance
INVICTUS ARRIVAL: Prime Minister the Honourable Scott Morrison MP, and Invictus Games competitors with The Duke climbed the Sydney Harbour Bridge to officially raise the Invictus Flag, marking the arrival of the Invictus Games to Sydney. Meghan later joined Harry with calls on the Leader of the Opposition at Admiralty House, and the Prime Minister at Kirribilli House.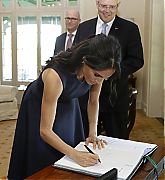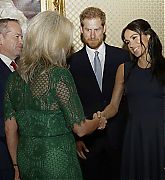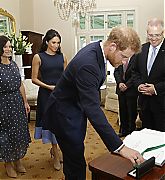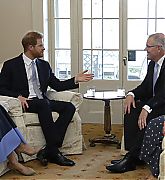 VIDEOS: Meeting Bill Shorten And Scott Morrison
GALLERY LINK
Engagements In 2018 > Commonwealth Tour > October 19 | Commonwealth Tour – Day 4 – Set 1
Engagements In 2018 > Commonwealth Tour > October 19 | Commonwealth Tour – Day 4 – Set 2